POLICY FOR THE USAGE OF THE COMMUNITY & STUDY ROOMS OF THE WATERFORD PUBLIC LIBRARY
The Waterford Public Library Board believes that the facility should be made available for community purposes, provided that such use does not infringe on or interrupt the original and necessary purpose of the property. The fact that a group is permitted to use a library meeting room does not in any way constitute endorsement of the group's policies or beliefs by the library. No advertisements or announcements implying such endorsements will be permitted. The Library Board may consider exceptions to any of these policies.
The board will permit the use of the facility when such permission has been requested in writing by a responsible, non-profit, organization or group of citizens and has been approved by the board or the director. For-profit organizations or individuals will be permitted to use the facility for corporate or employee information and training sessions not open to the public or for private tutoring and consultation. If a tutor is being paid for their services, no money may exchange hands while on the premises and the tutor may not promote the library as the location in which they tutor.
The use of the facility shall not be granted for any purpose that is prohibited by law. Admission charges are prohibited. Applications will not be approved until the fee is paid. The fee is refundable if cancellation notice of the event is received at least 10 days prior to the event.
Organizations desiring use of the facility shall file an application for such use at least 21 days before the scheduled event. Groups or organizations must designate one member of its group as being in charge and responsible for the program or activity, including set-up and clean-up.
No weapons, vaping, or smoking shall be permitted. Rooms are to be vacated 15 minutes before closing. The library retains the right to monitor all meetings, programs, and events conducted on the premises to ensure compliance with library regulations. There's no expectation of privacy.
The user of the building agrees to restore the room to original condition, or as requested by the librarian. Users must adhere to all library policies including the Rules of Conduct Policy. Users shall be liable financially for damage to the facility and equipment during use. Should any organization at any time abuse the privilege of using the facilities, its right to use the facility shall be immediately withdrawn.
Approval for decorations must be secured before using the room. The use of nails, screws, bolts, tape etc. is prohibited. No alteration of building, equipment or services without prior approval will be allowed.
Library parking should remain open for regular library patrons and programs. Organizations should inform their participants that parking is available in the municipal lots to the north of the village hall and across the river next to the fire and police building.
Adopted March 20, 2001, Revised February 12, 2002
Revised December 9, 2003, Revised November 13, 2007
Revised October 14, 2008, Revised January 13, 2009
Revised November15, 2011, Revised July 14, 2015
Revised February 9, 2016, Revised April 10, 2018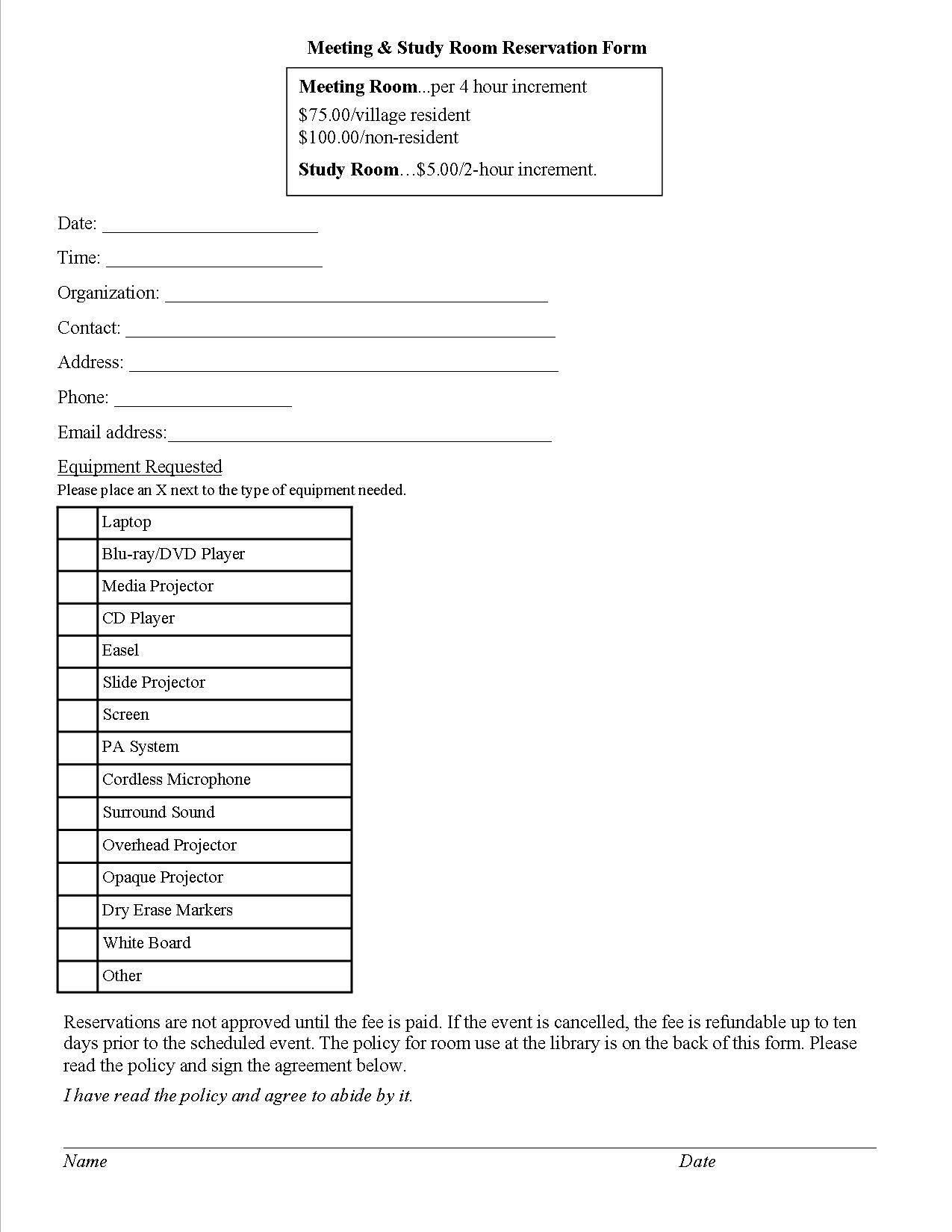 Print a copy of the policy and reservation form here: Community & Study Rooms Policy and Reservation Form