Get a Library Card
Cards are available free of charge to any Wisconsin resident, except residents of Milwaukee County. (Cards are available for Milwaukee County residents for a $100 fee.) You must apply in person with a current Wisconsin driver's license or photo ID and proof of residence. Parent must be present with children under 18 who apply for a library card and parents must sign the child's application form. Your library card may be used at any public library in the SHARE Consortium of libraries. There is a $2.00 charge for a replacement card. Library users should report lost cards as soon as possible since they are responsible for all materials checked out on their cards. Please inform us of any change of address and phone number.
Get the Share Anywhere app
THERE'S FINALLY AN APP FOR THAT! SHARE Anywhere is the new app for library users. Access the catalog and account portal in a handy mobile format on your Android or iOS device. Handle your searches, holds, renewals, and digital items in one place–anywhere, anytime. Families especially, may enjoy the "Link Accounts" feature, which allows users to access multiple accounts, including scannable library cards for easy checkouts.
Apple link: https://apps.apple.com/app/share-anywhere/id1629900743
Google link: https://play.google.com/store/apps/details?id=us.sol.SHARELibrariesWisconsin&fbclid=IwAR09M8kqasdf_Dy3h14jGTeSMYnt7HDW8PCqk-WOkde73btGq9Lgfufdzyc
Get E-Mail Notifications
Through the SHARE automated library system you can choose to be notified by e-mail when items you've placed on hold become available and when items are overdue. Please note: if you choose to receive notices via e-mail, you will no longer receive notifications by phone. Once you sign up, please add sirsi@roscoe.mwfls.org to your address book so that the notices will go directly to your inbox rather than spam. Your e-mail address will not be shared with third parties. Call the library or stop in and talk with a librarian to change your contact information to a current e-mail address.
Manage My Online Account (Including Renewing Materials Online)
You may access your online account only after you have logged in to the SHARE online library catalog. You will need your library card number and a PIN number that has been assigned by the library that issued your card. Click the SHARE logo on the homepage of the library's website.  Click "Log In" at the top of the screen to enter your card number and PIN. Then, click "My Account" and you will see all items checked out on your card and have the opportunity to renew items individually or renew all items. Once logged in, you can also change your PIN number or place holds. Please note: some items may not be renewed online. If the item has been renewed a number of times or if another patron has a current hold on the item, you will not be able to renew it. You will need to return it to the library. Please call the library at 262-534-3988 if you have further questions.
Sign Up for a Program
The library now offers online registration for programming. Go to the programs tab on our main webpage to see our programming calendar. Click on the event you would like to register for. Click the "register online" button and fill out the form. Click "Register" and your name will be added to the list. You can also register in person or by phone at 262-534-3988.
Reserve a Meeting Room
The library has a community room, a history room, and two study rooms available for use by individuals or community groups. The use of meeting rooms is at the sole discretion of the director. Please call or stop in at the library for more information. See the meeting room policy for specific information on the large room and applicable fees.
Use a Computer at the Library
To have access to wireless internet, stop in at the information desk with a current library card for a wireless access code. To borrow a library-owned lap-top computer, go to the information desk with a current library card and driver's license. To use one of our computer terminals, go right to the computer you wish to use, log in using your library card number and PIN assigned to your card, and agree to the computer use rules listed on the main page. You will be granted a 60 minute session.
Request Special Services
Interlibrary Loan Service is provided for materials that are not available within the SHARE Consortium. Contact Sam at svogel@waterford.lib.wi.us or place requests by phone.
Homebound Delivery Service is available to any Village of Waterford resident who finds it difficult or impossible to visit the Waterford Public Library due to a temporary or permanent physical disability. Call the library for details.
Courtesy Phone is provided for limited local calls and is located on the post at the circulation desk.
Proctoring services are available upon request. Call the library for details.
Download an eBook or Audiobook
Follow the link to Overdrive from our website or go to http://dbooks.wplc.info. Look for the "Getting Started" section in the left-hand column near the bottom. This will help direct you to download eBooks or audiobooks in several different formats including directions on downloading the software needed. You will need to log in with your library card number under the Lakeshores Library System in order to place holds or reserve eBooks and audiobooks for your digital device.
Order a Personalized Brick For the Walk of Honor?
The Walk of Honor is the section of sidewalk located under the clock tower made up of personalized bricks that people have purchased to help support the library. This is a great way to recognize or memorialize family members and friends. Anyone interested in purchasing a brick can stop in to pick up a brick order form or print one from here.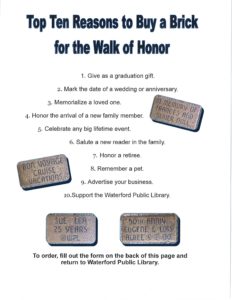 Find a Book at My Child's Reading Level
Ask your child's teacher for their reading level. Each school district uses different systems for determining your child's level. It could be a letter that corresponds with a Guided Reading Level or a number that stands for a level in the Lexile system or something else altogether. We recommend going to http://www.scholastic.com/bookwizard/ to find a list of books corresponding to your child's level in the system used by your child's teacher. Then, search our catalog online at https://ent.sharelibraries.info/client/waterford/? to find the location and status of books at your child's level. The library does have a section of books designated for beginning readers that are books with controlled vocabulary and strong picture-to-text correlation to browse for your convenience.