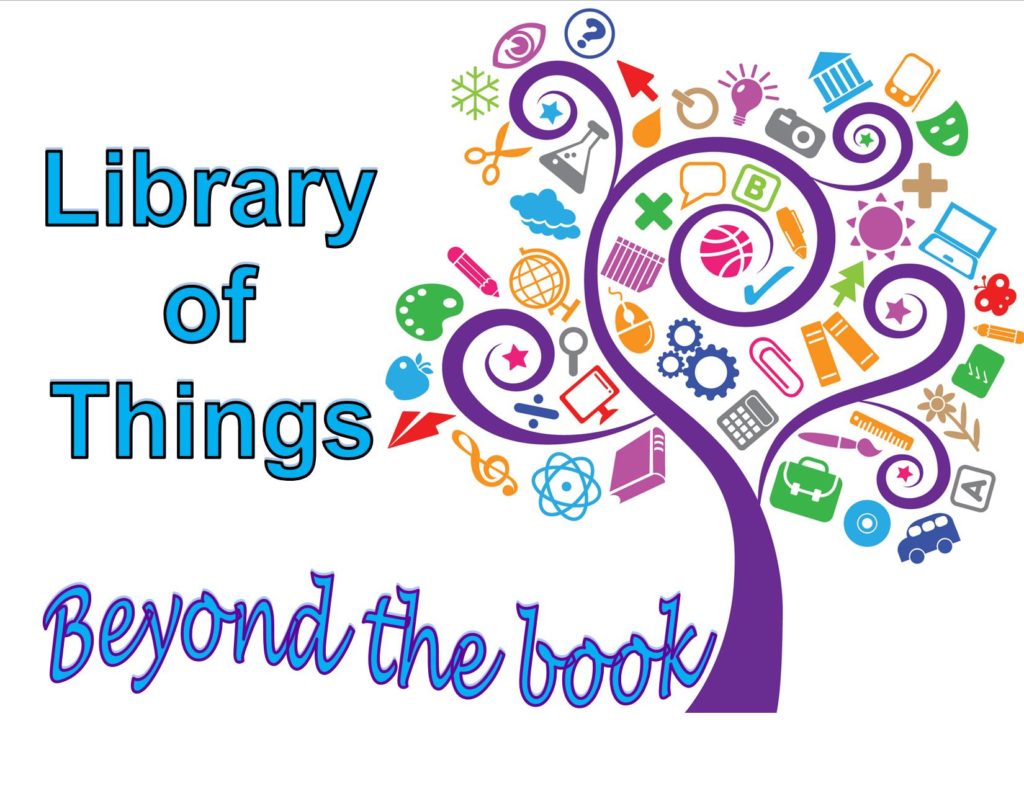 What is the Library of Things?
The Library of Things is a collection of items available to patrons, like library books, at no charge. At Waterford Library this collection of things includes items such as bike locks, experience passes, 3D pens, craft kits, STEAM items (science, technology, engineering, arts, and math items), ukuleles, literacy kits, puzzles, games, hot spots and more. Items checked out at Waterford Library must be returned to the circulation desk of the Waterford Library. A valid Lakeshores Library System card in good standing is required to borrow from the Library of Things. Some items may require an additional agreement policy to be signed before checkout. Checkout periods vary by item and these items are NOT a part of the library's fine-free policy. The borrower is solely responsible for items checked out from the Library of Things and will be billed for reasonable damage or replacement costs as determined by library staff.
Beyond the Book
Adult Learning Kits
3-D Pen Kit
All About Herbs Kit
Basic Jewelry Kit
Bird Watching Kit
Calligraphy Kit
Chalk Lettering Kit
Folded Book Art Kit
Friendship Bracelet Kit
Garden Planning Kit
Glue Gun Kit
Jewelry Tool Kit
Long Knitting Loom Kit
Round Loom Kit
Sock Loom Kit
Tree and Wild Flower Identification Kit
Ukulele Kit
Ukulele Accessory Kit
Wind Cork Craft Kit
Wood Burning & Soldering Kit
Wrapped Bracelet Kit
Eclectic Equipment
Auxiliary Audio Cords
Bicycle Locks
Coleman Quad Lawn Chairs
Digital Magnifier
Easel
Elephas Media Projector
Flat Moving Cart
Kindles – pre-loaded
Megaphone
Music Stand
Oculus Go Virtual Reality Goggles
Opaque Projector
Overhead Projector
Portable Stereo Speakers
Power Charger (Android)
Power Charger (Apple)
Power Charger (C Cable)
Projection Screen
Slide Projector
Slide Projector Tray
Soil Tester
Speakers on the Go
Tables
Watt Meter
Wi-Fi Hotspots
Experience Passes
East Troy Railroad
Green Meadows Petting Farm
Milwaukee County Zoo
River City Lanes
Games
Backgammon
Bananagrams
Beware of the Dog
Blokus
Bop It Smash
Brownie Match
Candyland
Card'n'Seek
Cars 3 Surprise Slides
Cars 3 Trouble
Catch of the Day
Chess Teacher
Chutes & Ladders
Clue Card Game
Crazy 8's
Dinosaur Escape
Disney Eye Found It!
Disney Family Feud
Disney Monopoly
Disney Pictopia
Disney Villainous
Disney Villainous: Perfectly Wretched
Disney Villains Monopoly
Dog Bingo
Dog Pile
Don't Break the Ice
Draw Into Crime game
Elefun
Escape Thunder Hollow Cars Game
Farkle
Find It Game
Finding Dory Operation
Fishing Game
Friends & Neighbors
Frozen Frantic Forest
Frozen II Fishing Game
Frozen II Rumbling Rock
Frozen Trouble Game
Fryin' Flyin' Donuts Game
Game Night in a Can
Giant Spoons
Glazed and Confused: A Donut Memory Game
Go Fish
Greed
Gumball Grab
Harry Potter Memory Master card game
Harry Potter Match Game
Headbanz
Hi Ho Cherry-O
Hullabaloo
I Spy Dig In Game
Incredibles 2 Uno
Junior Boggle
Llama Line Up
Lion King the Game
Mancala
Moana Sorry
Monkeys Up
Monopoly Deal
Monopoly Junior
Mr. Mouth
Nick DVD Bingo
Niffler Challenge game
Operation Pet Scan
Operation Star Wars
Pancake Pile-Up
Paw Patrol Memory
Pictureka!
Pooh Go-Together
Pop-Up Pirate
Press Here
Push A Monster
Qwirkle
Rally Up
Rattled Word Wand
Roll & Play
Rook
Rory's Story Cubes
Scattergories
Scooby-Doo Clue
Scrabble Slam
Sequence
Shape Land
Silly Street
Snail's Pace
Sophie's Seashell Scramble
Sorry
Sorry – Giant Edition
Spongebob Connect Four
Spot It
Square Up
Star Wars Bop It
Sum Swamp
Taco Cat Goat Cheese Pizza Slap Match Card Game
Tenzi Dice
The Sneaky, Snacky Squirrel Game
Top That!
Trolls Twister
Trouble
Tsum Tsum Bubble Fever
Tsum Tsum Mancala
Twister Shuffle
Uno Reflex
Up the Water Spout
Which Way?
Yahtzee Jr.
Yeti in my Spaghetti
Yoga Spinner
Yo-Kai Monopoly Junior
Literacy Kits
Baby and Toddler Kit
Bear Themed
Cat Themed
Community Service Themed
Curious George Themed
Dinosaur Themed
Dr. Seuss Themed
Frog Themed
Gardening Themed
Hungry Caterpillar Themed
Lilly Themed
Maisy Themed
Musical Instrument Themed
Nature Themed
Paw Patrol Themed
Princess Themed
Read and Write Kit
Shopping Themed
Superhero Themed
Things That Go Themed
Traveling Ted
Unicorn and Narwhal Themed
Veterinarian Themed
Zoo Themed
Pre-Reading Tools
ABC Book & Bingo
Alphabet Cards
Alphabet Flashcards
Beginning Sight Words
Bob Books
Bob Books Kindergarten
Disney Princess Sight Words Books
Easy Sight Words
First Words Flashcards
Hooked on Phonics
I'm Ready for Reading Matching Game
Leap Pad Tablet
Leap Pad Tablet
Leap Reader Set
Leapfrog Scribble & Write
Leapfrog Text & Learn
Lego DC Phonics Kit
Magnet Alphabet Maze
Match It Spelling Puzzle
Me Reader Disney
Me Reader Disney Princess
Me Reader Eric Carle
Me Reader Frozen
Me Reader Marvel
Me Reader Paw Patrol
Me Reader Sesame Street
My First Books Set
Nemo & Dory Sound Book
Phonics Cards
Phonics Made Easy Flashcards
Sentence Dominoes
Sight Words Flashcards
Sight Word Swat!
TAG Kit 1
TAG Kit 2
TAG Kit 3
TAG Preschool Kit
Puzzles
ABC Puzzle
Alphabet Train Puzzle
Animal Families Match-It Puzzle
Beach Puzzle
Beneath the Waves Floor Puzzle
By the Book: A Novel Stacking Puzzle
Cars Sliding Puzzle Book
Clifford Giant Floor Puzzle
Dress Up Bear
Dress Up Boy Bear
English/Spanish Puzzle Cards
Fairy Tale Castle Floor Puzzle
Farm Floor Puzzle
Farm Sound Puzzle
Fire Truck Sound Puzzle
Frozen II Puzzles
Instrument Puzzle
Magnetic Bug Puzzle
Magnetic Fish Game
Magnetic Space Adventure
Magnetic Wheels at Work
Numbers Puzzle
Opposites Puzzle
Pet Sound Puzzle
Pete the Cat Puzzle
Pirate Floor Puzzle
Princess Magnet Puzzle
Progressive Puzzle
Puppies Floor Puzzle
Rhyming Word Puzzle
School Bus Puzzle
Scooby-Doo Puzzle
Seuss Floor Puzzle
Shapes Puzzle
Solar System Floor Puzzle
Spanish Alphabet Puzzle
States Puzzle
Tarzan Puzzle
Thomas Puzzle Book
Train Sound Puzzle
Under the Sea Floor Puzzle
Vehicle Puzzle
Who's Hiding?
Whose Baby?
Read & Discover Kits
Biscuit Phonics
Examine Science and Nature
Green Energy Kit
Lego Star Wars Phonics
Letters and Numbers
My Amazing Body
Paw Patrol Phonics
Ready, Set, Kindergarten
Rocks and Fossils
Starting to Spell
STEAM (Science, Technology, Engineering, Arts, and Math)
Code A Pillar
Cow Bell
Cozmo & Cozmo's iPad
Create A Dinosaur
Electronic Drums
Engineering Blocks
Giant Keyboard
Gravity Maze
Handbell Kit
Kalimba
Karaoke Machine
Konga Drum
Laser Maze
Leapfrog TAG USA Map
Leapfrog TAG World Map
Lift It Game
Match A Leaf Game
Match A Track Game
Match It Math
Match These Bones: A Dinosaur Memory Game
Math Dice Jr.
MI-Wonder Vehicles
Multiplication Keyboard
Number Flash Cards
Rush Hour Game
Snap Circuits
Snap Circuits 3D M.E.G.
Snap Circuits Arcade
Snap Circuits Jr.
Snap Circuits Light
Soft Piano
Spooky Math Game
Steel Drum
STEM Challenges
Subtraction Push & Learn
TAG Reader Growing Body
TAG Reader Solar System
Talking Microscope
USA Facts Board
Zither
Toys
Alphabet Drum
Balancing Stilts
Blue's Clues Felt Board
Bunny Connectors
Busy Ball Popper
Busy Board
Encanto Book & Movie Projector
Frozen Book & Projector
Lacing Animals
LCD Writing Tablet
LeapFrog 100 Animals Book
Little Bear Felt Board
Mr. Potato Head Silly Suitcase
Musical Workbench
Nintendo DS
Olivia Dress Up Toy
Pets Lace & Trace
Self Help Skills Kit
Shoe Lacing Pegs
Tetris Fidget Game
Other Items for Kids
Bike Locks
Book Bundles
Family Film Fun Kits
Kids Craft Kits
Get Crafty Kits for Teens and Tweens
Launchpads
Portable Phone Charger
Pre-Loaded Kindles
Read & Discover Kits
Video Games