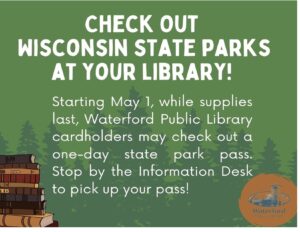 Starting May 1, Waterford Public Library cardholders can check out one-day state park passes, while supplies last. Stop by our Information Desk to pick up your pass and welcome letter from the Wisconsin Department of Natural Resources.
Each pass is valid for one car to visit any state park, forest, or recreation area in Wisconsin. Parks are open from 6:00 am – 11:00 pm every day of the week. To plan your trip, read up on nearby trails you can visit in southeastern Wisconsin. Be sure to double check if your location requires a pass before visiting–most trails and some parks do not.
If you enjoy the park pass check-out program and want to help us offer it again in the future, or if you want to be entered to win a year-long pass for 2024, be sure to fill out this survey.

This partnership project is provided at no extra cost to participating libraries thanks to generous support from several program partners, including the Friends of Wisconsin State Parks and the Natural Resources Foundation.